NOTE - THIS PROTO-PAGE IS STILL IN THE EARLY STAGES OF CONSTRUCTION!
This tree or related species are found throughout tropical Polynesia, and also in Fiji and Vanuatu. The Proto-Polynesian word *Toi appears to be related to the Fijian word doi, so they may both be reflexes of an earlier stage of the development of the Fijian and Polynesian languages.
Whether this Proto Polynesian word is the progenitor of Mäori töï is, however, problematic, although the broad narrow leaves and in particular the inflorescence (if you take an impressionist view and ignore the details) may have reminded someone of the tropical and very different toi when they encountered Cordyline indivisa in the New Zealand mountains. The form of the tropical toi (see photograph below) is quite different from that of its New Zealand possible namesake - the Alphitonia is a tall tree - up to 30 metres tall -- and quite an open appearance with many branches, whereas the töï reaches about 8 metres with a dense tufted top borne on a trunk with normally no branches. Both, however, are montane trees, and certainly the tropical toi does have an elegant and graceful trunk, like its New Zealand near-namesake, until it starts to branch ....
However the form of the Maori word is also problematic -- long vowels normally indicate that something has been left out in their transmission from an earlier stage of the language, and there are no signs of either long vowels or missing consonants in the cognate forms in other languages.
However neither of those rules is absolutely inflexible, so we can for the moment give töï the benefit of the doubt and classify it as a heritage word, with Proto-Polynesian *toi as the source.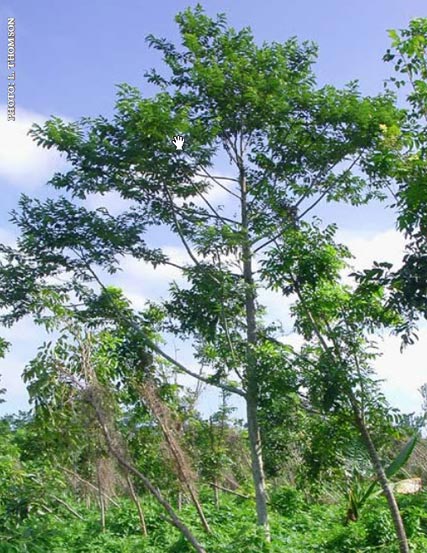 Alphitonia zizygoides
Shark Bay, Santo, Vanuatu