NOTE - THIS PROTO-PAGE IS STILL IN THE EARLY STAGES OF CONSTRUCTION!
This is another plant name which appears after a group of Polynesian adventurers left Tonga and settled in Samoa, but before the isolation of Eastern Polynesia. Judging by the Samoan and Rapa Nui reflexes of *nau, it was originally a rather general term, applied to a number of different shrubs and creepers with aromatic and medicinal properties. The glossy leaves may be an additional thread linking the plants with names incorporating the word-root nau (see the page on *Naupata for more about this). In Central Eastern Polynesia, the associations with distinctive aroma, medicinal properties and prostrate form with glossy leaves seem to have remained, but the focus has narrowed to species of the pepperwort genus, Lepidium, as the core term, widening out again in derivative forms with a distinctive qualifier.
Thus Central Eastern Polynesian *Naupata refers to plants of the genus Scaevola where this is found in tropical areas, and returns to denote a species of Coprosma in New Zealand (echoing the referent of one of the Samoan reflexes of *nau -- the naunau, Geophila herbacea is a member of the Rubiaceae (coffee family) closely related to the Coprosmas). Similarly the Maori Naupiro ("Stinking or smelly nau") refers either to a coprosma, or a botanically unrelated aromatic herb. (Go to the linked pages for more information about the Maori words and the plants they denote.)
The other Samoan reflex, nau,is the name of an aromatic climber, Alyxia stellata, related to the Hawaiian maile.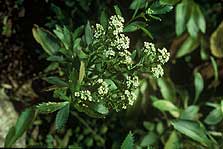 Lepidium oleraceum (Nau - Aotearoa)