NOTE - THIS PROTO-PAGE IS STILL IN THE EARLY STAGES OF CONSTRUCTION!
This name originated after the Marquesas and Hawaii began developing their own variants of the Central Eastern Polynesian linguistic tradition, but probably before the settlement, and possibly even the discovery of Aotearoa. It is not shared with Rarotongan, so possibly came to Aotearoa directly from Tahiti.
It seems to have been a generic name for creepers or small, delicately branched shrubs or trees with aromatic leaves or flowers and rather similarly-shaped flowers and fruits. Certainly the are visual and aromatic commonalities among all the plants, in Tahiti, the Tuamotus and Aotearoa that share the reflexes of this name, with the clumber Alyxia scandens probably the "type" plant. This is a member of the same botanical family as one of the two New Zealand plants bearing the name tawhiwhi, Parsonsia heterophylla.
I could not find any images of live plants of the tropical species that were free of copyright, and had not photographed any of them myself, but there are some links below. However I have included a photograph of the flowers of the nono, Morinda citrifolia, closely related to two of the Tahitian täfifi and reminiscent of the botanically unrelated New Zealand tawhiwhi as well as the other Tahitian plants sharing the inherited name.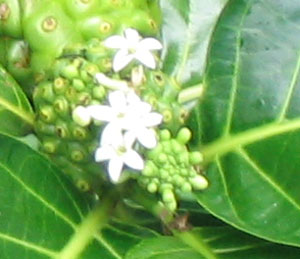 Flowers of nono, Morinda citrifolia.
.